The brand option in Mobizen Studio is a function that allows you to specify the background color, background image, logo position, and overlay in a scene at once.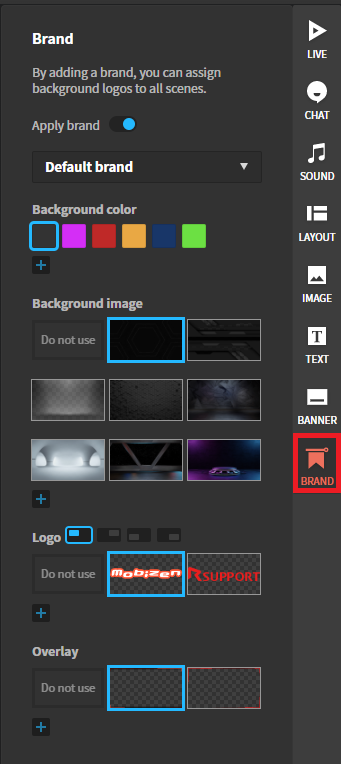 Click the brand icon at the bottom to use the brand function.
1) Apply brand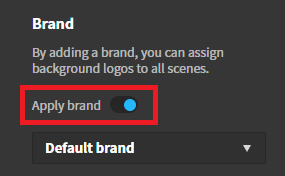 If you change Apply Brand to ON, the specified setting value is applied to all scenes.
A brand is provided by default, and if you want to designate a brand set for each item you want, click Select Default Brand to create a new brand.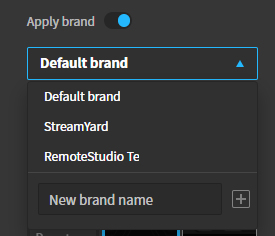 2) Background color and Background image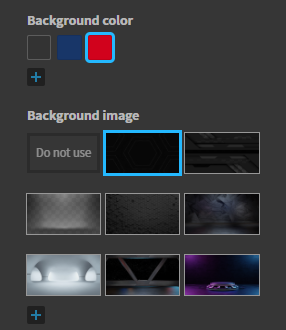 The background color of the brand means the BG color that is placed underneath.
The background image is the image that goes on top of the BG color.
For the background color, click the + button to expose the color palette, and you can add a background color by specifying the color.
You can also use the background image by clicking the + button to register the image you want.
3) Logo
You can think of it as a logo and an image exposed at the top.
The logo can be placed at the top left and right and bottom left and right after registering the image.
Also, if there is a logo you want, click + to register the logo.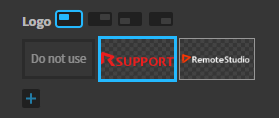 An overlay is an area of ​​a frame that is exposed on top, such as a frame in a picture frame.
If there is an overlay you want, you can register an image by clicking +.
4) Overlay

If there is a brand feature that you do not want to use, simply click Disable that feature.
Managed brands can be used in various broadcasts, regardless of broadcast duplication.